Case Study
CASE1

Ni- Ti Alloy Long Tube
■ Customers' Requests
    A customer, who came to us from within the medical industry, was searching for an extremely long Ni-Ti tube. This tube needed to be long enough to reach into the human brain for a specific surgical procedure. For this procedure to be successful, the tube needed to be more than 2M long. Before working with our company, this customer could only find tubes that came to 50cm in length.
■ What we did
    At that time, our company had created a way to manufacture a Ni-Ti tube much longer in length than our competitors. That customer was one of the first to discover and utilize our high-quality, fine Ni-Ti tubing. Therefore, both the customer's product and procedure can reach markets sooner than they had anticipated. Their success with this new manufactured good is guaranteed as they will become the first supplier of this product in the world.

Where to use : Micro Catheter
Specification :
    Minimum OD:φ0.25mm
    Minimum ID:φ0.15mm
    Length up to 10m. 
---
CASE2

Thin Wall Tantalum Tube
■ Customers' Requests
    A customer came to us looking for a Tantalum tube with thinner walls. This tube needed to be placed on the surface of a resin catheter for marking purposes. The customer could not accept tubes with walls past a certain thickness. Nevertheless, because of the base nature of Tantalum, the customer nearly abandoned the development of this product.
■ What we did
    We consulted a university professor on the matter, who also nearly abandoned the project. The professor ascertained that, due to its size at the crystalline level, Tantalum could never become thin enough for the marking-purpose the customer desired. However, when the customer had resigned to look for another material, we successfully created the ultra-thin Tantalum tubing. Even the university professor was surprised more than anyone because our technology had gone beyond scientific understanding.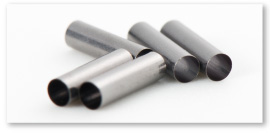 Where to use : Guide wire Marker Ring
Specification :
    Minimum OD:1.4mm
    Minimum Thickness : 0.02mm 
---
The World Finest Rare Metal Products
Have you ever seen such a rare metal product before?
Cobalt and Chromium Alloy
Features: The ID and wall thickness tolerance of our Co-Cr alloy tube is only 0.002mm. Such accuracy cannot be achieved by any other technology.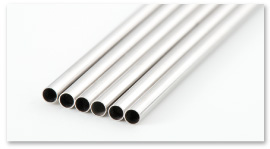 Where to use: Stent Tube
Specification :
    OD : φ1.4mm~φ2.0mm
    Minimum Thickness : 0.05mm
    Thickness Tolerance : 0.002mm
Finest SUS tube
Features: We are not only extrusion experts of rare metal tube but also the expert of cutting and milling. Without any additional manufacturing processes, we can completely debar, which further demonstrates why we are called 'Rare Metal Meister'.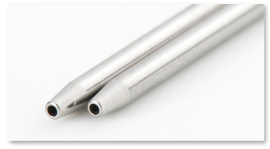 Where to use: ABS part
Specification :
    OD:1.60mm
    Thickness : 0.5mm
    L : 55.45mm
Cobalt and Chromium Alloy
Features: Thin walls are usually under the spotlight; however, making a thick–walled tube is as difficult as making a thin-walled. The largest size of ID: Wall Thickness ratio is usually 1:1. However, we can manufacture a tube which has a ratio of 1:2.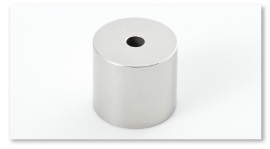 Where to use: Aerospace part
Specification :
    OD:10mm
    Thickness : 4.0mm
    t/OD:40% up
---